Fashion
- I love this shot of Chloe Sevigny impersonating photographer, Terry Richardson, on the cover of Candy Magazine. [Source]
- Tom Ford will design the costumes for the next James Bond film. [Source]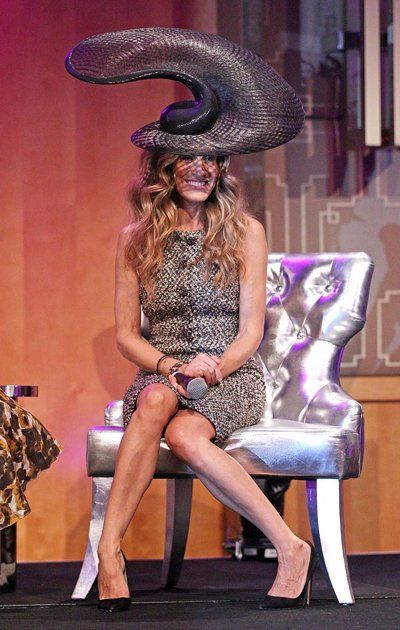 - Sarah Jessica Parker is trying too hard with this hat. [Source]
- Prince and Nicki Minaj will perform at the H&M x Versace launch party. [Source]
- Levi's suggests that we freeze our jeans instead of washing them. [Source]
- Kanye's kilt causes a stir. [Source]
Music
- Listen to The Flaming Lips' 24-hour song. [Source]
- Franz Ferdinand will return in 2012. [Source]
- Former Quadstock performer, Dan Deacon, has signed to indie label Domino. [Source]
Television
- What the series finale of Greek could have looked like with this alternate ending. [Source]
- Lady Gaga will sit down w/ Katie Couric for a holiday special called, "A Very Gaga Thanksgiving." [Source]
- FOX has decided to renew The X Factor for a second season. [Source]
- 60 Minutes' Andy Rooney passed away last night at age 92. [Source]
Movies
- Is "Project X" our modern day "Can't Hardly Wait?" Ehhh probably not.
Seattle
- Could a "Bruce Lee Action Museum" be moving into the International District sometime soon? [Source]
- EMP's Sound Off! entry deadline is Monday! [Source]
- Is anyone else aware of how many restaurants are popping up in Seattle recently? There's way too many to count for me to post about all of them so just check out Seattle Met's Nosh Pit blog for everything that you need and more.
- Seattle rock group, Visqueen, will be playing their last show ever on Saturday, Nov. 26 at the Neptune Theater. [Source]
Other
- Beyonce and Jay-Z's fetus is a girl! [Source]
- The New York Daily News decided to place a media ban on The Kardashians. [Source] I've only had to do that for Heidi and Spencer and Jon and Kate, but I adore the Kardashians too much.
- On a related note – Kendall Jenner is getting a Sweet Sixteen special on E! Not shocked. Still excited. [Source]
- Pippa Middleton is writing a book. [Source]
- Want your brown eyes to be blue? Want a laser to take care of that for you? [Source]
- One footballer decided to name his son "Trendy" because he loves Twitter. In the words of my friend Tina, "You F-A-I-L FAIL!" [Source]