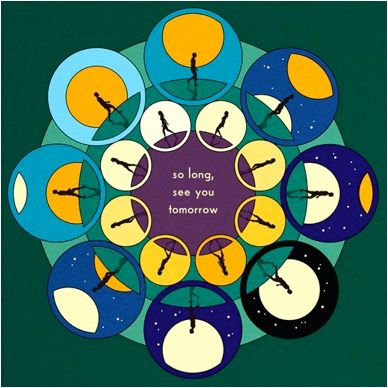 Before I graduated from college, there was a song that I probably listened to everyday. It was what I wanted to hear when I woke up. It was what I wanted to listen to right before I went to bed and as I was winding down in my apartment. It was what I listened to when I was blogging for Yow Yow! with just my desk lamp on and just this song playing on repeat. When you're a teenager, you associate yourself with songs for a period of time in your life and in a way you think it defines you and you get really emo and dramatic about it. It seems to happen into adulthood too. "How Can You Swallow So Much Sleep" was THAT song for me. It was a good mood, a bad mood, and even a so-so mood, but I never got tired of listening to it. This song aside, the entire album is a must-listen-to. I was thrilled to hear (or rather see in my inbox) that the band was releasing a new album early next year entitled "So Long See You Tomorrow" on February 4th, 2014. This is the band's 4th album in five years so clearly  they have been busy.
Track Listing:
1) Overdone
2) It's Alright Now
3) Carry Me
4) Home By Now
5) Whenever Wherever
6) Luna
7) Eyes Off You
8) Feel
9) Come To
10) So Long, See You Tomorrow
Below is their new music video for their single off of the new album called "Carry Me." A stop motion. Our favorite.