My taste in music has gone through many phases. Let me just break it down for you.
Age 0 – 3 – – – – That Barney ish and the theme song to every children's show. Let's throw in.. Blossom. That's not a kids' show but it will do
Age 4-6 – – – – – Rap. I kid you not. My brother and I used to rap the songs to lyrics. Okay that's a lie, maybe he rapped the songs and I was the chorus that the female usually sang. Mariah Carey, 112, Ginuwine, Tupac, Biggie, Mase, Blackstreet,
Age 7-9 – – – – – – Spice Girls and your typical pop, mainstream radio.
Age 10-13 – – – – – Britney, Christina, Mandy, Jessica, N'Sync, Backstreet Boys, M2M, BBMak lulz.
Age 14 — – – – – – –  John Mayer and the electronica phase of C89.5, Kaskade, ATB, Paul Van Dyke
Age 15-18 – – – – – – Indie and local Seattle bands – Danger Radio, The Scene Aesthetic, Daphne Loves Derby, This Providence, Gatsby's American Dream, Forgive Durden
Age 19 – DJ's and remixes as well as everything above.

Today, I wouldn't really know what to call the music I listen to. I would say  I listen to a mixture of all of my previous phases, but that doesn't mean I'm not expanding my library still because I am, so with that I'm going to introduce you to two different artists/dj's who are both similar and different!
First is Pretty Lights.
Derek Vincent Smith, a producer from Colorado, combines electronic music and simple beats often times accompanied with a drummer to create "soulful music." He juxtaposes collages of beautiful vintage samples against backdrops of futuristic synthesis and dirty broken beats, creating a sound that can snap your neck while simultaneously shedding your tears.
To listen to Pretty Lights, view his Myspace here
Second is The Twelves!
Yay! Thank you Hudson for introducing me 🙂
This dynamic duo pair from Rio de Janeiro, Brazil are receiving quite a bit of attention for their remixes! Word on the street is that they have amazing sets and currently their songs are playing all over the clubs in Brazil. I hope they come to the US soon cause I would love to see them!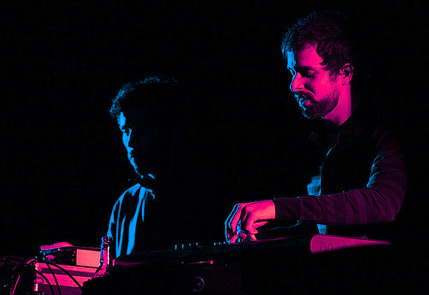 To listen to them visit their MySpace!
Listen to Metric's "Help, I'm Alive" remix first!