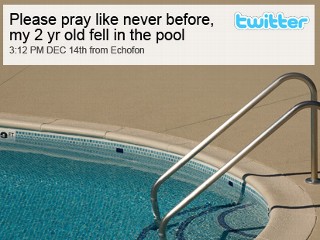 If your son is dying – like right now – you should NOT be on Twitter. In fact, you should be concerned for your SON. Twitter should be the last thing on your mind. Get your priorities straight. Mom tweeter, Shellie Ross, left her 5,000 followers in shock yesterday when she tweeted "Please pray like never before, my 2 yr old fell in the pool."
Her 2-year-old son Bryson had been floating unconsciously in the pool when her other son discovered this and called 911 to report the incident at 5:23 PM.
The above was tweeted at 6:12 PM. Five hours after the incident, and her youngest son Bryson had already been pronounced dead, guess what  Shellie Ross decided to do? She got back on the Twitter train once again! "Remembering my million dollar baby," she wrote. Ross included a photo of Bryson in the post, time-stamped at 11:08 p.m. A few minutes later, she posted another photo of her son."
Oh I am disgusted… it's like the idea that you do not have a son anymore [probably because you were too busy on Twitter] hasn't registered because you'd rather inform the entire world that you lost your son than actually mourn for him like normal people.
I think I have a love/hate relationship with Twitter and Facebook status updates.  Shame on you Shellie Ross.