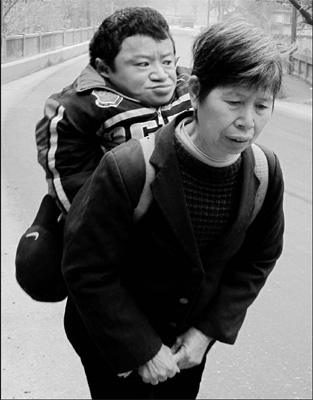 Xiong Mingqiang, 35,  was born with a deformity that would cause his head to be disproportionately larger than the rest of his body. This deformity would hinder him from ever being able to stand up on his own. Weighing in at about 23 kg, his mother, Wen Quizhen, goes to great lengths to provide her son with a normal life as best as she can. These include taking care of him daily and carrying him on her back in a basket traveling to visit his relatives in order to let him see the world.
"Because I'm dying to see what's there outside. If I had sealed myself up in home without learning, I would even be mentally disabled," said Xiong to China Daily. But Wen, who says she was advised by neighbors to abandon Xiong for his sake and hers, says any mother would have done the same thing.
Crawling and sometimes hiding behind his mother's back, Xiong said he is more familiar with the aging woman's shoulders than her face.
"I've seen close up her hair turning gray and back bending even lower. I've become very uneasy that one day she might pass away and leave me alone," he said.
"But at that time, I will feel more sad for not having done anything to pay her back – all I can do is to sit and move my lips."
"For now, I would rather stay in than ask to be moved outside – to lessen her burden," Xiong said, patting his mother's shoulders in a way to "massage" her.
But his mother thinks differently.
"As long as I have one last breath, I'll keep carrying him and letting him enjoy every day," Wen said.
How anyone could advise a mother to abandon her disabled son is heartbreaking to me. What an incredible woman and mother Wen has proved to be.