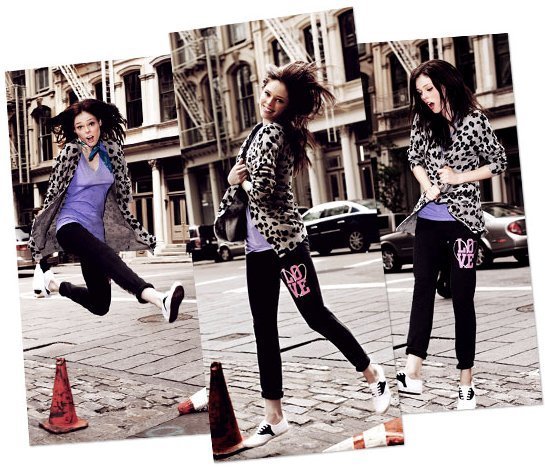 – Model Coco Rocha has become the newest Victoria's Secret model representing the pink collection. [source] Coco will also be updating their style file blog for British Vogue for July.
Gina Meyers has put out a new book entitled Love at First Bite: The Unofficial Twilight Cookbook. Oh my goodness.
– Oh hey Happy Canada Day!!
– The hit television series of the summer, Pretty Little Liars, has added on 12 more episodes for their season.
– The Hollister store located in the Soho District has been shut down temporarily because of an infestation of bedbugs. Gross. [source]
– Cynthia Rowley will be collaborating on a new diaper design w/ Pampers. [source]
– More proof that MTV's The Hills is fake? Yes, please. Guess it doesn't matter anymore now that the show is ending.[source]
– Actor Ruper Grint has been lending his voice to the Harry Potter video games ever since The Order of Phoenix and has been contributing since. [source]
– An all-star cast is brewing for both Scream 4 and The Social Network.
Scream 4 has cast: Neve Campbell, Courtney Cox, Emma Roberts, Hayden Panettiere, Adam Brody, Rory Culkin, David Arquette, and Marley Shelton
The Social Network includes: Jesse Eisenberg, Justin Timberlake, Rashida Jones, Andrew Garfield, Trent Reznor, and Brenda Song.
– Rachel Dratch is preggers!
– Actress Jane Lynch will play the role of Sam's [Jennette McCurdy] mother in the Nickelodeon series iCarly.
– Maroon 5 has released the CD cover artwork of their new album Hands All Over. It is potentially nsfw so you can check it out here
– Kelly Bensimon is struggling to stay relevant. She plans to release a work out video.
– The broken up Bachelor couple Jake Pavelka and Vienna Girardi have been offered to pose in both Playgirl and Playboy magazine respectively. Word on the street is that Vienna will have the cover in the near future and explains that it's really for the money. No shameeee. [Source]
– Charlize Theron has made an appearance in Brandon Flowers' new music video for his solo single "Crossfire."
– Tori Spelling's husband Dean McDermott has been put into intensive care today after a motorcycle accident. He has a collapsed lung. [source]
*****
Crystal Renn was known for being basically a spokes model for full size figured models. A recent shoot w/ photographer Nicholas Routzen is now shedding a different light on Crystal – one that might make her seem almost unrecognizable.
Before:
After:
[Source]
– Who's getting married on July 10th, 2010?
John Krasinski and Emily Blunt
Carrie Underwood and Mike Fisher
MTV VJ La La Vasquez and Carmelo Anthony
– Camille Donatacci has filed for divorce from her husband Kelsey Grammer. Awww Fraiser!
Daily dose of cuteness courtesy of PeoplePets
– Lily Allen will be doing the music for the Bridget Jone's Diary Musical. [Source]
*****
In silly rules and laws…
– The French Parliament has just approved a law in which calling your spouse a foul name will earn you up to three years in jail and a $93,000 fine. They are calling this type of verbal abuse a psychological offense or criminal offense if you will. [source]
– Anthony Williams, a senator from Philadelphia, has decided to blame the plain white tee for gang violence and street gangs. He believes the elimination of huge white t-shirts will "decrease the power of street gangs" who prefer to hang out on street corners.
"During these tough economic times, we have to set our priorities and be a role model for the country. These children are looking for us to stand up for them, and we have to turn this 'white-T culture' in a different direction."
Hey, sir, the white tee is a common staple for everyone. It's efficient, fashionable [even in tall tee form] classic, and inexpensive. Next you're going to tell us that we can't wear blue denim.