I don't believe that there will any other weekend this summer that will be able to top this one. I did not have a 3-day pass to the block party, but that doesn't mean we weren't on the hill all three days. I also decided that since I wasn't doing any interviews or committing to any projects for this year's block party I was going to have fun with my best friend. Unfortunately, that means no street style photos 🙁 There are photos everywhere though! They can be found in this Flickr group that was made to collect the pool of photos from this weekend.
Friday: DAY1
Yeasayer: First off, Mayor Mike McGinn mispronounced their name while introducing the band. Bad start. Yeasayer was actually one of the bands that I was really looking forward to seeing ever since my friend Max got me into them. I don't know where this performance went wrong, but it did horribly. The sound was way off. We weren't too far away, but it always seemed too muffled. Their inability to impress us made us go elsewhere.
Holy Fuck: Holy Fuck was one of the many bands that blew everyone away at Capitol Hill Block Party this weekend. The reviews were so good that they named them as the band that stole away the entire show – even from MGMT. Last year, I had the opportunity to see Holy Fuck perform at San Diego's Street Scene and they immediately became my new favorite group. They have a way of doing things so effortlessly. There's a lot that goes into their sound, but they manage to pull it off w/ ease considering how complex all of it is. If you ever have the chance to see Holy Fuck live, please do it. It might just change your life. Don't believe me? Read the reviews!
MGMT: When word got out that MGMT was going to be performing at this year's Capitol Hill Block Party, young college students and jr. high preteens all over Seattle were about to shell out their money for a chance to hear "Electric Feel," "Kids," and "Time to Pretend." They were the only songs that they knew. You could tell that the majority of the crowd weren't even fans because they were unfamiliar with their new CD "Congratulations." I wasn't even close to MGMT during their set, but there were people around me that were still asking who the band was halfway through the set!
At the end of the night, Holy Fuck won over my heart once again. Sorry MGMT, I wasn't feelin' it.
Sunday: DAY 3
Blue Scholars: They're local favorites and they have performed at nearly every single venue in the area including my own high school. Mayor Mike McGinn took the stage once again to claim that they were his favorite rap group. Meanwhile everyone's thinking "you can get off the stage now…" haha For my first time seeing them, I would say that they are so-so. They know how to get a crowd going and they realized that they weren't at any music festival. They were at the Capitol Hill Block Party so they needed to make it more hipster friendly, which they did by pairing their raps with The XX's "Intro" [I loved] and Modest Mouse's "Float On." After awhile though, I had had enough about hearing the 206 and 808 area codes repeatedly.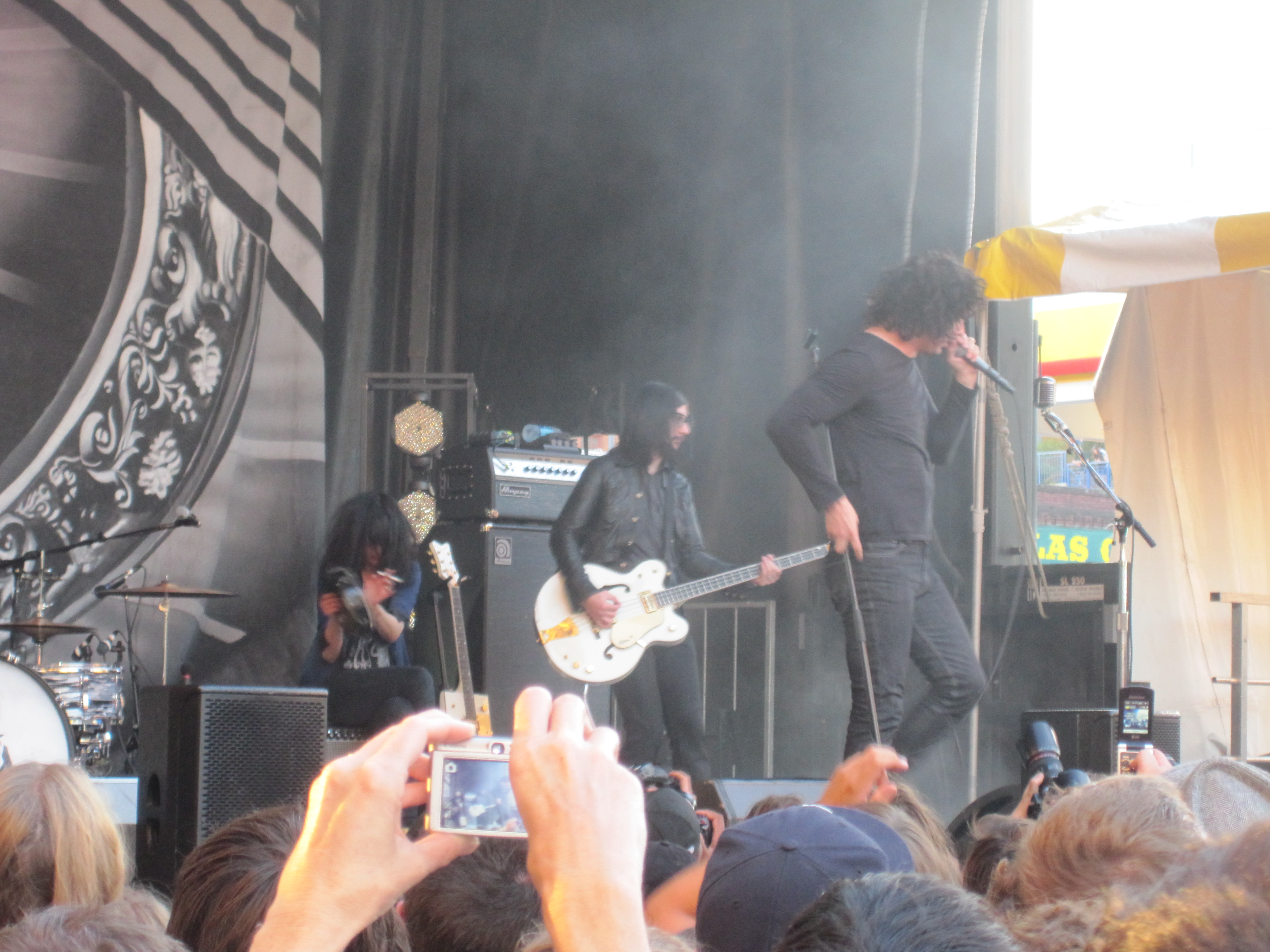 The Dead Weather: What an experience it was to finally get to see The Dead Weather perform. There was a lot of hype swirling around them considering they were the band to close out the Capitol Hill Block Party. What I liked about them was that they were very different from all of the bands and artists that came out this weekend. They were fucking rock stars and they just didn't give a shit about anything. For the most part, Capitol Hill Block Party had a very upbeat, poppy, energetic atmosphere surrounding it, but The Dead Weather wasn't afraid to get dark. Alison Mosshart, hair in her face and owning that stage was terrifying. At the end of the night I didn't really feel like I was at Block Party anymore, but maybe at a satisfying end to a beautiful funeral. The Dead Weather has made me write sentences that I didn't even know could make any sense at all.
Now I would like to commend a special group of people at the Capitol Hill Block Party. They are the most dedicated fans you have ever seen. They sacrifice their hunger, thirst, and bladder. However, they leave the show feeling the most satisfied out of anyone though. A couple of bruises mean nothing when you get to be up against the fence for the entire day watching your favorite artists perform on the main stage. For that, you deserve some sort of an award or something.
Congratulations, I hope the stench and discomfort were worth it!
To view the rest click here
I'd like to finish off this lengthy post with some lessons learned from this year's experience:
Never let your friend pee in a water bottle if he refuses to go to the bathrooms and loses his spot. He must hold it. The pee will get on you.
It beats the vom though.
Be polite. If you are moving through the crowd, say "Sorry" and "Excuse me." like your parents taught you to. Do it with a smile and no one will even think twice about giving you a back hand to the face.
Avoid pushing through the crowd to the front with a chain of people behind you. If everyone had the opportunity to be closer, they would. Let's not be selfish now.
Make friends with your neighbors! They're awesome.
Dress appropriately. Don't over-do it.
Don't puke. No one likes the vom.