Every so often, I'll get asked from someone who reads my blog the question of how I decide what goes on Yow Yow. Well, that's a very interesting question that comes with a full circle answer. I read the news everyday from a number of sources across various topics. Generally, I like to stick to things that I'm genuinely interested in, but other times, I'll write posts based on what I think my own friends would like to read. Before starting Yow Yow, I used to run into this disconnect with some of my friends in a group setting when I would always say to them, "Oh! Did you hear about…?" (probably something related to what I write on the blog now) and they either didn't care for it or had never heard about it.
Yow Yow was not only an expressive outlet for me and a past time, but it was something created for my friends that was relevant to my  generation. It was something that they could read or relate to while they were in class, being distracted from homework, or reading on their own time.
With that, I happened to stumble upon three pieces this morning each reminding me of three of my friends.
My dear friend Megan, who you will seeing a guest post from next week, used to make these beautiful handmade journals for herself and for her friends as presents. This journal, pictured above, was constructed out of vintage materials by Odelae. This one was made out of leather, but she also seems to have another journal bound between oyster shells! [Source]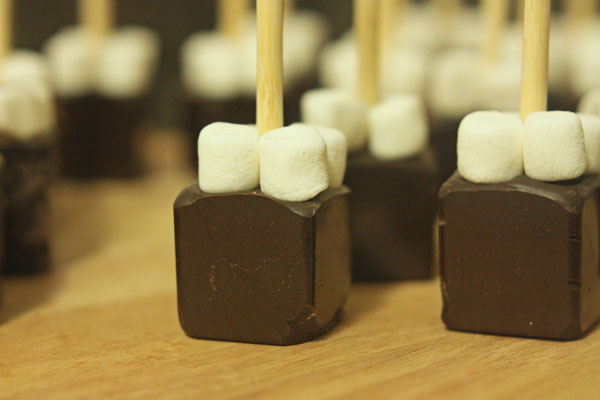 During our recent snowy Sunday, Veronica invited me to trek through the snow to share a cup of cocoa with her. I never made it, but I did come across this simple, but adorable way of making hot cocoa and gifting it to friends and family. How chic, right? It's so modern, but makes perfect sense. Making hot cocoa has never been so easy. Check out the recipe here.
Lastly, my friend Bree loves cats. Every time I see cute cat-like things, I am instantly reminded of her. She doesn't have one right now, but I think she would love these "cats as human hipsters" pillows. Or…maybe she'll be creeped out by them. Either way, they're too stinkin' cute. This Boyfriend Girlfriend Pillow set was made by graphic designer and illustrator Nicola Rowlands. [Source]