I meant to write this post before I left, but then time got ahead of me and I completely forgot altogether. There haven't been any posts this week because I've been hard at work with my day job and traveling for the first time with my company. I don't talk about what it is that I do on Yow Yow! because I generally like to keep my blog life and my work life separate. However, I will say that I work in recruiting and I attended the Grace Hopper Conference in Phoenix this week celebrating women in tech!
It was the first time that I had ever been to anything like this and I found it to be not only a really positive event, but truly inspiring. It's incredible to be amongst many talented women each expressing their passion for tech and striving for success for themselves. The conference is filled with sessions and talks throughout the couple of days, but also a career fair every day for three days. It was the most exhausting thing that I have ever been a part of, but I loved telling people what we do and seeing people come to our booth to let us know how much they love our product!
I also happened to collect the most swag that I have ever obtained at an event. It was awesome. Pouring it all out when I got home felt like Christmas. A very tech Christmas.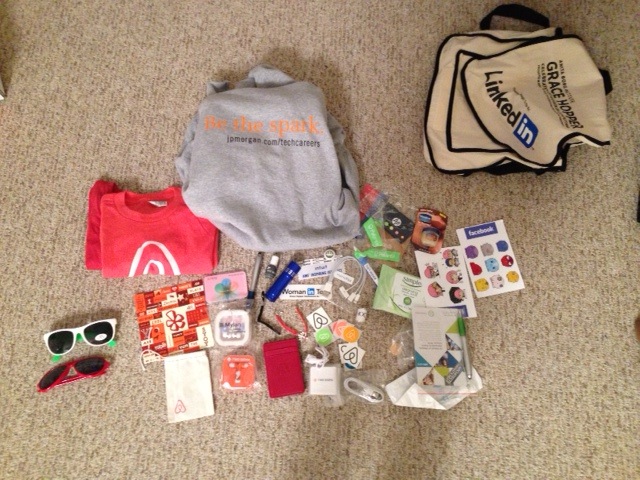 So my job is at its peak season currently which means Yow Yow! posts will be few and far between unfortunately. I didn't receive a press pass for Treasure Island next weekend and am realizing now how tough it is to build up Yow Yow! in the Bay with a full time job. I think I've always known that. I wish I could have both, but I am very fortunate and lucky to have my job and I wouldn't choose to have it any other way.