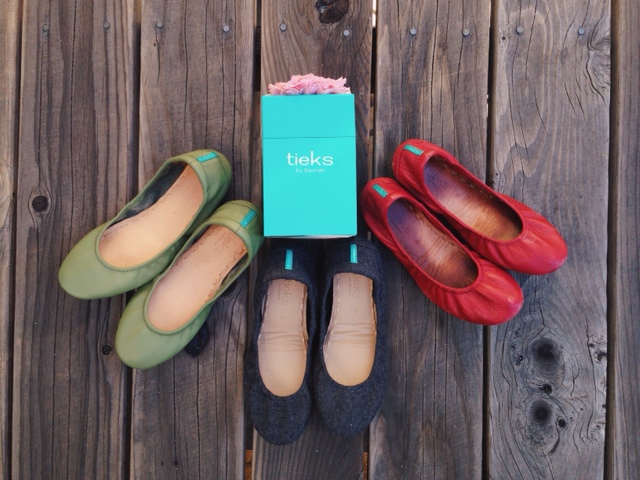 When I first started at my workplace, I noticed that a lot of the women were donning the same kind of ballet flats in a style that I had never seen before. They looked like ordinary flats, sure, but on the heel each one had a vertical turquoise stripe, which I found to be unique and what really set them apart from any other pair of flats. A few weeks into my job I was presented with a Tieks box with my very own pair in our company's signature red! I don't think I ever thought I would be THIS excited, but it wasn't just that I was getting a brand new pair of shoes from my coworkers. I was getting the same pair and color of flats that every woman received when they started working here and it was an instant bonding experience.
These flats have gone with me everywhere. I've taken them on all of my trips, on a hike, to the beach, to all of our recruiting events, and more. Not only have they just never let me down, but they are very versatile and make for the perfect "everyday" type of shoe. I think one of the largest benefits that I've had out of owning my pair of Tieks is how great they are to travel with. Your Tieks box comes with two little drawstring baggies that can hold each shoe after you fold the top part (where your toes rest) into the heel. I haven't come across any pair of flats that can do that! I used to think that my coworkers' obsession with the leather flats were a bit extreme, but what do you know – one year later and I'm one of them. I've completely sold my mom on the shoes and my dear friend Winny and I will probably continue to rave about them to all of my girlfriends. I'll admit when I first looked up Tieks after receiving my own, I was taken aback by the price, but given how much I wear the shoes (50% of the week) I know I'm definitely making great use out of them. This past fall, our company received a very generous discount from the company so I indulged and took advantage by buying myself two new pairs (olive green and greystone wool.) I used to say that I probably didn't need to own more than just one pair, but I'm really just lying to myself.
My friend Nadia wrote a post on why she loves Tieks on Quora recently and if you're on the fence and not totally convinced about the flats, I think her post will squash some doubts. Feel free to check out their shop here and find yourself falling in love with what will probably be one of your favorite pairs of shoes. Ever.