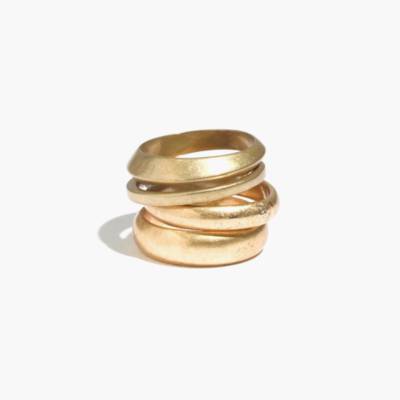 Apparently, when it comes to jewelry I'm still a complete n00b. I stopped into Madewell this past Black Friday and when I spotted these rings on sale for just $10, I knew they were a steal. After putting that bottom one on (it's a size 5 and I'm a size 4) I found myself completely stuck with my finger starting to turn white. My skin looked completely squeezed from the ring and I was panicking. I didn't think that would happen since it was one size larger, but I later found out from my cousin that thicker rings size differently?
So I ask the salesperson for help on getting the ring off and she says, "No, I don't want to hurt you."
Okay, but like what are we going to do about this ring?
She suggests that the front has lotion, but they really only have Purell. That may work. When she sees that I'm trying to be careful with the Purell, she goes "I don't care how much you get on the ring." She probably just wanted it off or maybe she just hated me. If you think about it, I'm kind of like this bratty kid that had to try on everything at home and she was the babysitter that wanted me to not touch anything. And honestly, I didn't think it was going to come off! Until it did, and I was so mortified about the situation that at that point I couldn't even buy it.
Thank god for Cyber Monday, right?