I've been reading blogs for a very long time now, but only recently did I truly understand the meaning of blog post headlines and the importance of them. I think if you go back to some of my very first blog posts, you'll see that I didn't quite grasp that yet and I would name my posts really random things or things that had nothing to do with the content because I couldn't come up with something. This was the wrong thing to do and I should've known better because for years I would read posts sometimes mainly because of what the titles told me about them. In 2015, I've seen a huge shift. These days, I'm finding that titles of blog posts are becoming sort of tacky and not as genuine as they used to be. Instead, they're looking a little crazy so that they can lure people in for the "clicks." It's something that has been pretty disappointing and not what I would ever do with Yow Yow! but something that I've seen in a lot of my favorite blogs.
Here's an example that I saw the other day: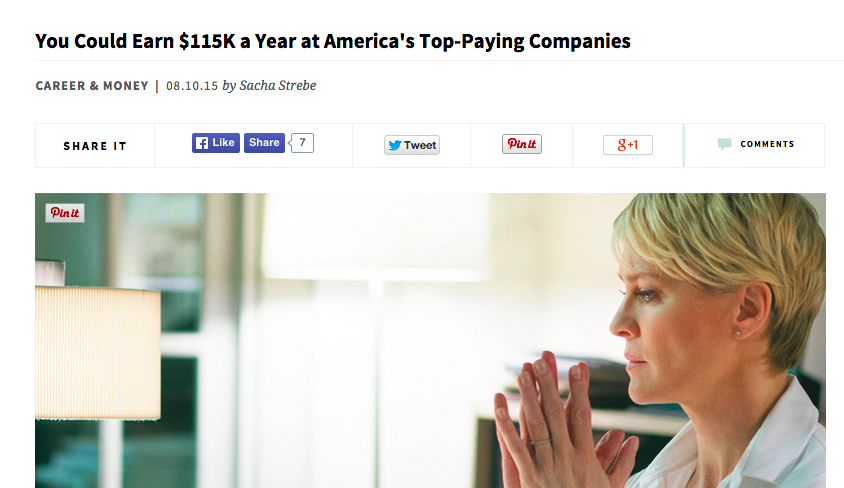 Now, this is a blog that I read every day, but this title made me do a double take. What kind of readers was the blog trying to attract? Did the writers have all of the facts? Does this title seem… fair? So I did what I didn't want to do. I clicked on it because I was curious about what companies this blog gave up and suggested that people go to work at. They suggested jobs at Juniper Networks, Netflix, and Yahoo! They highlight average salaries annually for employees, but what they don't say is what roles these are for. How does the writer of this post know that their audience could qualify for these positions when they don't even share what experience is needed. This entire article centers around money and that to me feels superficial. Maybe it's because I work in recruiting and I believe there's more to an ideal job than just money, but at the end of the day this blog doesn't care about what I think because they accomplished what they needed, right? That click from my end on my laptop. Even though I disagreed with that title, I couldn't keep myself from what they had to say.