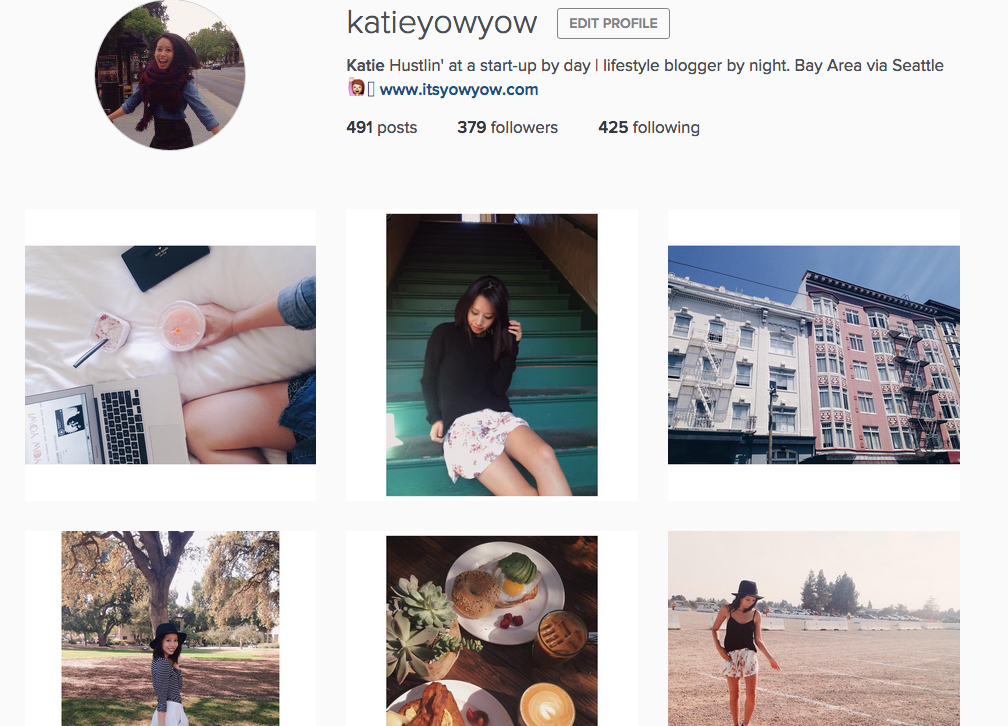 If you've been following my Instagram page for the last four months, then you may have noticed a signifcant change in the way that I've been posting my photos as opposed to when I first started my account. My co-worker Emily is someone that I find pretty knowledgeable in Instagram given that she runs an account for her cats that does reasonably well. When I picked her brain awhile back about how I could gain followers for my account so that I could build upon Yow Yow, she gave me a very simple answer: Hashtags.
But wait, doesn't that look kind of spammy?
"Not if you put all of the hashtags in the comment section instead of the caption."
Interesting. So I followed her advice. We happened to be together on "Caturday" at Dolores Park and after editing my photo and posting it, she helped me line up a variety of hashtags. (#cutecats #Saturday #DoloresPark #SF #adorable #cute #cats #catz etc.) Shortly after, the likes poured in, without even using an instagram bot of any sort! We ended at 54 and I was hooked. I convinced myself that I could do this experiment for another week, but naturally that ended up being four months. I was really put off by the hashtags at first so after I had received the desired number of likes that I was hoping for, I would go back and delete my hashtags comment. However, I learned that if I kept it there without deleting that users would continue to like my photos even weeks after. I have since learned of more ways to leverage hashtags as a way of growing my following on the platform and it has even been recommended to me to try out an instagram hashtag generator to help with this so I am looking forward to giving that a shot soon.
That was just one of the things that I learned from this project, but I actually learned a lot more and have some pretty interesting stats to include in this post as well. Let's start with the stats:
In my four months of doing this I had:
8 regular photographers (people that have taken at least two photos for me. Most of them were my co-workers)
17 photos of my food
38 photos of my outfit
been to 3 different cities
staged 15 of my photos (had to rearrange things on a table/the way they would be taken)
spilled Jamba Juice on my bed. (This actually happened today so I'm still clearly a n00b)
Takeaways:
I still haven't figured out how to gain a significant amount of followers like I had hoped. I gained more than 48, but if I count all of the followers that have been added since this project and stayed "following" that's the number I have.
I was never going to really take off as an "Instagram" star. Unfortunately when Instagram came out, I think I was still using an old school Blackberry so all other bloggers had a huge advantage over me.
If I wanted to continue a following, I needed to post everyday at least once a day. I felt a weird sense of pressure from this and as a result felt like I didn't have enough clothes to rotate into my shots (had to buy more!) and had to continuously look for inspiration.
Doing this project made me a better photographer. When I look back on all of the photos I took prior to doing this, I realized I was just taking photos "in the moment" and of my friends and random things that no one really cared about. Those photos just don't get likes and I really want likes. My friend even told me to buy Instagram likes.
I still despise the #nofilter hashtag and refuse to use it ever.
I started asking myself the question, "Why would people care about this photo?" Why do people care about a group photo or a single shot of my friend from across the table? They don't. But random strangers care about it if you hashtag it correctly and they're the ones who will like your photo.
It's very hard to like your first shot. Sometimes, I would come out of a session with 30 photos that I had to continuously delete in a row in order to get to the $$$ shot. There's lot of photos in between that just don't "look right" because a strand of hair is in my face or my eyes are blinking or my mouth is open.
I still have yet to post a "selfie!" and I probably won't just because I don't think I can get it right and they make me feel uncomfortable.
Even though I had a set of hashtags that I always used and knew would do well, I still had some doubts that I was missing out on other hashtags that could do better that I wasn't using.
Tips:
If you're going to capitalize on the fashion thing and the OOTD, then you've got to do it in moderation. I learned this lesson the hard way. I once had 3 outfits posts in a row. It didn't hurt my likes very much, but when looking at the "whole" page of my Instagram, it looked off and didn't display a "lifestyle" which is what people would rather see. Imagine a whole feed of outfits. No one really wants that.
I've heard that taking photos in the "Square" function of your camera gives you the best shots. I've tried it a few times now, but since I have so many photos with more of the white space around it, sometimes it looks out of place. What I like about the square though is that it kind of centers everything and makes it a lot easier for cropping. I'll use this feature more when I'm trying to capture more of my outfit.
I definitely prefer having photos with more of the whitespace in the background. When looking at all of my photos as a whole, I just like that they give my Instagram page more of a uniform look, but I've read that it also provides people with more "visual relief" when scrolling through their feed. Because of this, it garners more likes.
Find a buddy! My friend Alex was also trying to step up his Instagram game around the same time as me so we would go on shoots together, give each other advice and basically lean on each other. When no one else understood what I was doing, it was great to have him around.
When possible, always include a location for where you're at. That gives you a couple more hashtags to use.
If you're trying to break into the fashion market, tag the brands you're wearing. During the Nordstrom anniversary sale, I Instagrammed a Rebecca Minkoff bag that I fell in love with that I couldn't afford and Nordstrom sent me a $50 gift card! Uniqlo has commented several times on my photos that they'd like to re-use my photo (they haven't yet) but I have hope someday that they could so I keep trying.
High volume Instagram days don't mean that you're going to get likes. ie) Father's Day. Because everyone is doing it and you're not special. Your dads are – you just aren't. On Instagram.
Just because your meal tastes delicious doesn't mean it looks good.
Be courteous on Instagram. If someone random likes your photo, try and go to their page and give them a couple likes as well. If they leave a comment on your page, do the same.
Utilize an instagram manager who can take charge of your account's activity and grow followers, likes and engagement. Businesses will also see this method drive sales.
This is still my favorite photo from this time period.
This is still the most liked photo at 73 likes and the first photo in the series of "outfit" posts.
Tools that I use:
VSCO Cam for editing
Squaregram for the whitespace background
Twitter for sharing – most of the time I won't share to Facebook though
Related articles:
So we've done 4 months of this. What now? Well, to be honest, Instagram has been way more fun since I started wanting to take better photos that I don't really want to go back to what I was doing before. We're going to continue on with the photos, the outfits, and the hashtags, and we're looking forward to more learning and what happens next!