Give it a print! [Homey Oh My!]
My office is holding a pumpkin carving session this coming Wednesday and after reading the invite, it donned on me that I've only actually "carved a pumpkin" once. And by carve, I mean I watched my dad carve a pumpkin in front of me – your very standard jack-o-lantern. We weren't all that big into Halloween growing up because let's be real, all I cared about were them goodies. The candy bars, the lollipops, and mass amounts of sugar. I can only recall that one time where I watched my dad carve a pumpkin. My brother didn't care about carving as a tradition either so I think my parents caught onto this and every year after that we just bought one pumpkin that we put out on our doorstep to signal to other children and parents that we had candy too. I think it's great that people get into the spirit of Halloween with pumpkin carving and all of that, but here are some other ideas that I have for my future pumpkin:
2. Donut Pumpkins [Studio DIY]
3. Make it shine!
4. Confetti Pumpkins [Homey Oh My!]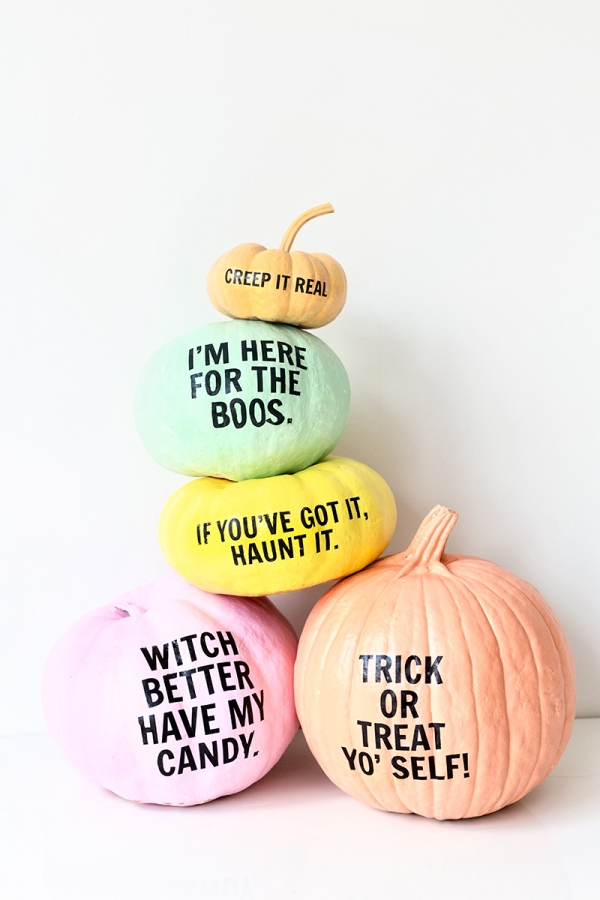 5. Pun-kins [Studio DIY]