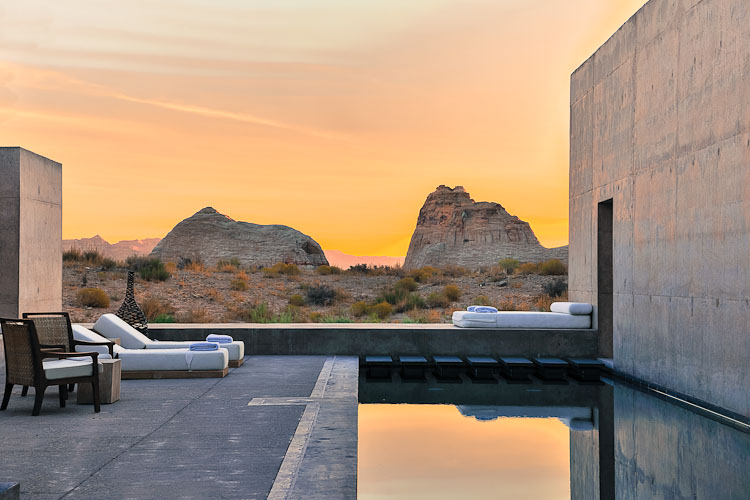 Something that I think about a lot more as an adult and not so much when I was in college are places that I want to travel to. Back then, I would choose places because that's where my friends wanted to go. Today, it's still interesting to find places to go to, but I also like to ask myself why exactly I want to go there. What am I looking for out of this vacation? What's important to me and what's necessary for me to get and have the relaxation that I need? Such thoughts, right?!
This past December, I wasn't sure that I was going to be returning home to Seattle and what I was looking for at the time was something kind of secluded, quiet, and in the middle of nowhere, but still very beautiful. I remembered how one of my favorite bloggers, Sincerely Jules, had gone on a trip this past summer to the most beautiful location called Amangiri in Utah. Seriously, the pictures are absolutely stunning – don't worry we'll try to include more.
Another thing that I've been searching for in a vacation lately is a place where I can completely disconnect. I happen to have a job where I feel pretty tied to always staying connected and no, not just cause I work in tech. It's great at times, but there are also times where it puts a barrier between me and those that I care about because I can't disconnect. I previously researched those retreats where you have to turn in all of your electronics and you're just completely off the grid, but that also freaked me out a little bit so I'd like to have at least some control. We'll work our way up to that eventually.
It's pretty isn't it? Turns out it's hella $$$ and is like tens of thousands of dollars to stay here I think (at least it was in Dec.) So while we can't stay here now, it's something that I think I want to work towards you know after I pay off all my student loans and among many other things, I at least want to come here. I think then when I feel like I can actually stay here and afford it, I'll feel like I kind of accomplished something massive for being in my 20's.