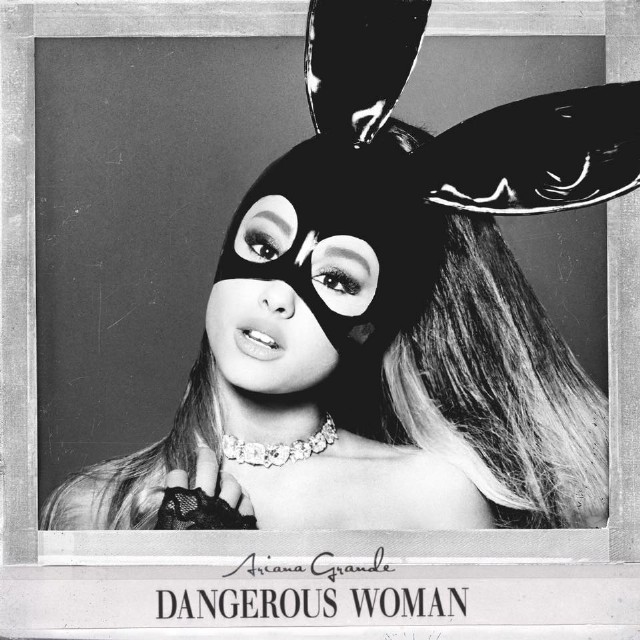 "Dangerous Woman" is officially out and we cannot lie to you. It's all we have been listening to for the past week. Good news though! I've listened to it so much that I can rank all of the songs in my favorite order (something I never do) and I've got a little something to say about each one. Before we get into all of this, here are my initial thoughts –
We're so happy that "Focus" is not on this album because (we're all thinking it!) it did not meet the bar for the rest of this album.
Ariana's album was originally going to be called "Moonlight," but then was changed to "Dangerous Woman." Both are singles on her album and it doesn't make a difference to us.
This album is everything we hoped for and has exceeded our expectations, but just like every other album of hers there are songs that we love and hate.
I can't believe how long I've been a fan of Ariana's. I think it started when she first appeared on Victorious singing, but when "The Way" came out with Mac Miller, I was hooked and that was back in 2013! She's come so far since then and now with her third album "Dangerous Woman" she's really coming out strong. We'll get to the "why" in a second.
Our favorite songs: (tbh I like all of them except for "Side to Side" with Nicki Minaj. We've never loved the reggae feel unfortunately so we put this last)
Touch It
Knew Better / Forever Boy
Moonlight
Into You
Bad Decisions
I Don't Care
Leave Me Lonely
Let Me Love You
Thinking About You
Sometimes
Dangerous Woman
Everyday
Be Alright
Greedy
Side to Side
1.  "Touch It" wasn't originally my favorite song off the album and to be honest I only started listening to it more frequently within the past couple of days, but we love it because of its complexity and the range in the verses. Let's just assume that Ariana isn't writing her own songs (she most likely isn't) but the lyrics of "Touch It" are so beautiful and you might mistake them for being something dirty at first glance, but it's actually very pretty. I think we're just pleasantly surprised by it all. My favorite? The bridge –
Remind me why we're taking a break
It's obviously insane
'Cause we both know what we want
So why don't we fall in love?
Baby, let's be in love
2. "Knew Better / Forever Boy" – Ugh this is so good. It was tough to put this 2nd because I actually think it's my favorite song overall. Because it's featured near the end of the album, I don't think it's going to get the attention that it deserves though. She probably won't even include it in her tour. This is so 90's to me the fact that it's two different songs in one that are connected and make perfect sense together. The first part is sexy and seducing like every young girl is playing coy when she sings this jam (just like Ariana would!) but very quickly after a 1:30, you start to see the song shift. The beat picks up and this starts to sound like something you'd hear in a club. I don't think we'll get tired of this and lucky for us it's the longest track on the album.
3. "Moonlight" is very pretty, but Ariana is totally following her MO with this. Every album of hers always starts out with something very soft that highlights her vocals, but isn't a banger. Who remembers "Honeymoon Avenue" and the "Intro" of her sophomore album "My Everything?"
4. We might have placed "Into You" a little bit higher on our ranked list after watching the music video this week. It's so steamy and the way that the song is structured allows for so much buildup. It makes a lot of sense that this song is actually doing better than "Let Me Love You." Our favorite part is the pre-chorus. Sometimes it's so good that you miss it entirely:
Oh baby, look what you started
The temperature's rising in here
Is this gonna happen?
Been waiting and waiting for you to make a move
(Woo, oh, oh, oh)
Before I make a move
5. "Bad Decisions" – BOY is this a girl anthem. To be entirely honest, this whole album is a girl anthem, but sometimes the ladies need something like that whether it's a) building up your confidence again b) to feel good about yourself or c) to pull you out of that shitty breakup. This is totally something that I would probably sing along to with my girlfriends and it's clearly one of the sassiest singles on her album. Our favorite line? "Ain't you ever seen a princess be a bad bitch?"
6. "I Don't Care" is nice. This is a perfect spot for it on our ranked list. It reminds me a lot of her previous songs with the strings, but one reason we love it is because you would think that this song would be really in-your-face and aggressive. Obviously, she's singing about not caring about what people think about her (could she be referring to that infamous donut incident) but instead it ends up being a very pretty track. It's light and airy and suggests to all of us that this is the kind of approach we should be taking instead of just getting upset. Classy Ari.
7. "Leave Me Lonely" – Look at our girl reviving Macy's career again! We like this song because it's so unexpected – whoever thought Macy would make an appearance, but the contrast between both of their voices makes this such a good single. We love how dramatic it feels and sounds – kind of like a track for a Bond movie. This song was clearly put on this album to showcase Ariana's vocals and they did a good job with it. Before the album came out, I watched a video of her performing this song and while it wasn't high quality, it was very clear to me how powerful of a track this would be. I think this is going to come up a lot more and I wouldn't be surprised if she released this as her next single down the line.
8. "Let Me Love You" – the worst part of this was watching all of those teaser videos for this music video on her Instagram and then learning that the music video was released on Apple Music. What the heck! Some people have said that this song would've sounded better with Big Sean than with Lil Wayne, but what can you do? It's not a song that we love or hate, but it doesn't stand out to me. If I had to choose between this and "Love Me Harder…" well I think you know the answer.
9. "Thinking About You" – It's not a bad single, but it needs a little something extra. Throughout the song (every time I listen to it) I'm always waiting for something to "wow" me, but it never comes and I never stop trying to convince myself to stop looking for it. As the last track on the album, I don't feel like it will get any attention, but it's okay because every album has to have some filler tracks.
10. "Sometimes" – I keep thinking that this song is intro-ed with Bruno Mars, but it's totally not him! Another pretty track, but honestly it's a snooze fest until you get to the bridge. Sometimes I'll pass by the whole song just for the bridge because it's the most exciting part of the track. If the rest of this song were up to this tempo, it'd be in good shape! There were some missed opportunities here.
I don't know, I don't know, I don't know
Why it never worked, but it's going to now
You don't know, you don't know, you don't know
What it does to me when I feel you around
Is it love? Is it lust? Is it fear?
But it's hard to breathe when you're touching me there
Hard to breathe when you're kissing me there
Hard to breathe when you're not here
11. "Dangerous Woman" – If this wasn't the first single released off her album, it probably would've ranked higher, but at this point we kind of feel like the song is overplayed. We will say, however, that this track completely BLOWS "Focus" out of the water and we're so glad that she began promoting her new album with the track because it put her in a good place to soar the charts. Another vocal-highlighting track, but for good reason.
12. "Everyday" – This song sticks out like a sore thumb to me on the album. It tries very hard to be hip-hop and with Future on the track, but I don't feel like she's fooling anyone. It's much to aggressive for her in a different way and I think even I would feel a little awkward watching her try and perform this song in concert.
13. "Be Alright" – I was pretty surprised that she came out with this song as the second debut off the album. I was really excited when I heard it for the first time on Saturday Night Live, but since I've had time to listen to the other tracks off the album, this one has kind of dropped off my list of favorites. It's your typical "feel good" type of song, but it's nothing special. I liked it more than "Greedy" so it's a step up from that, but not by much.
14. "Greedy" – This is a bop for sure, but it's not for everyone. When I try to think of who this song would appeal to, I'm kind of confused. It just feels like a pop filler for this album for me. It doesn't showcase her vocal that much; the lyrics aren't as captivating to me. It just kind of feels like a song that is just there.
15. "Side to Side" – I can't get into this.