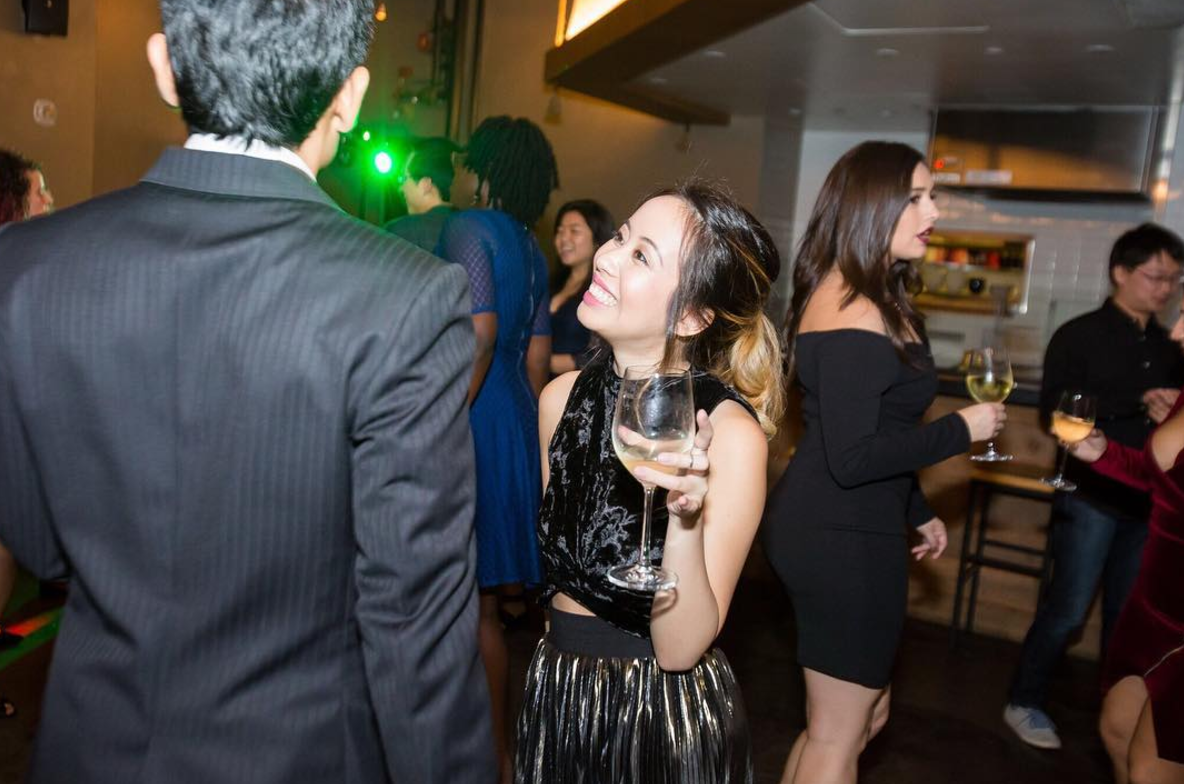 Hair – Drybar / Makeup – Benefit / Top – Topshop / Skirt – Trouve (Nordstrom) / Shoes (not pictured) – Vince Camuto
You guys, we totally blew it on making sure we had a perfect shot for our holiday party look this year, but thank goodness for the roaming photographer at my company's holiday party who caught this! It's not a full shot that is lookbook worthy, but it will do!
Before holiday party season even started I knew I wanted to wear an outfit that was going to be in two parts. In fact, I almost considered this formula for Mandi's wedding as well, but landed on a sheer Urban Outfitters dress that was more perfect instead. The thing about two piece outfits though is that it's really difficult to find two things that work together and even trickier if they are from the same store. I like to consider myself lucky in this case. I didn't know it then, but I found this look on the very first day that I went holiday party dress shopping and after trying on a few options including this one, I went home empty handed. This was my favorite of the day, but something didn't feel quite right. A couple days passed and I had my second shopping trip planned, but I couldn't get this out of my head. So I tried this getup again for a second time and that's when I pulled the trigger on it.
Even with some minor doubts in my head, I couldn't stop thinking about how I loved the velvet top and it was just a little bit of a mock neck and how it paired well with the skirt to just show a sliver of my "Taylor Swift midriff!" No bellybutton involved – just the way we both like it. I initially thought the skirt was going to be too long, but it worked and I didn't even bother trying to find a place to get it tailored. Out of all of my holiday party looks, this was different and that's why we loved it so much.
This year, we chose to get our makeup done at Benefit instead of Bare Minerals and we LOVE this look. It felt like a very natural look for me and closely resembled how I do my own makeup except maybe 3 dials down. Our hair was done at Drybar of course and I considered doing the same "hair to the side" look I did last year, but then opted for a ponytail inspired by Miranda Kerr on the runway in the end.