Whoa! The last time we did this was in April for March – we really dropped off on this. Sorry about that.
Favorite TV Show: The Bold Type
You would think that because I'm working full-time and writing part-time on Yow Yow! that there wouldn't be much time left over for my television. False. This is a terrible thing for me to say and my parents and my childhood self would probably be appalled by this statement, but my TV is one of the most important things in my home. It's my constant background noise. It's the one thing that I never get tired of and there's always something to watch. When Kevin was in town a couple of weekends ago helping me move, we decided to upgrade my 32″ from college to a solid 49″ and it is life changing. In case you were wondering just how serious I was about my television, now you know.
Freeform (formerly ABC Family) recently debuted a new show and I'll admit, at first I wasn't all that convinced that this would be something I'd enjoy, but I've watched other shows on Freeform that I've liked and it deserved a fair chance. The show centers around three women working at a magazine that resembles Cosmopolitan. They each have three different roles, social media, writer, and assistant each with their fair share of issues – like the rest of us! I identify the most with Jane, who has recently been promoted to a writer and is a mid 20-something who just snagged herself the hottest boyfriend (also a writer in the same building!)
Anyways, I'll let you check out the show for yourself, but four episodes in and I'm hooked already.
Favorite Album: SZA – CTRL
SZA is one talented individual. We actually wrote about listening to her album all weekend at the end of June – happy to announce that not much has changed and I am still very much listening to her every day.
Favorite Product – Benefit Hydra-Smooth Lip Color in Air Kiss – $19
Honestly, I haven't bought any new products lately! I will admit that I have a lot that I hoard over the years and since I'm using all of them at the minimum, I don't finish my products that quickly. I'm always open to trying new stuff though and I love when brands email me to see if I'd be open to sampling. The problem ends up being that I say yes very often. I'm still very new to the lipstick game and even though I bought this back in December, I'm still very much in love with it. It's a good lipstick for "most days," but not everyday use. I'll only wear it if I feel like it makes sense for the outfit that I'm wearing, but more recently – I put it on before I did a fitting for my bridesmaid dress at Weddington Way just so I could look a little bit more done up.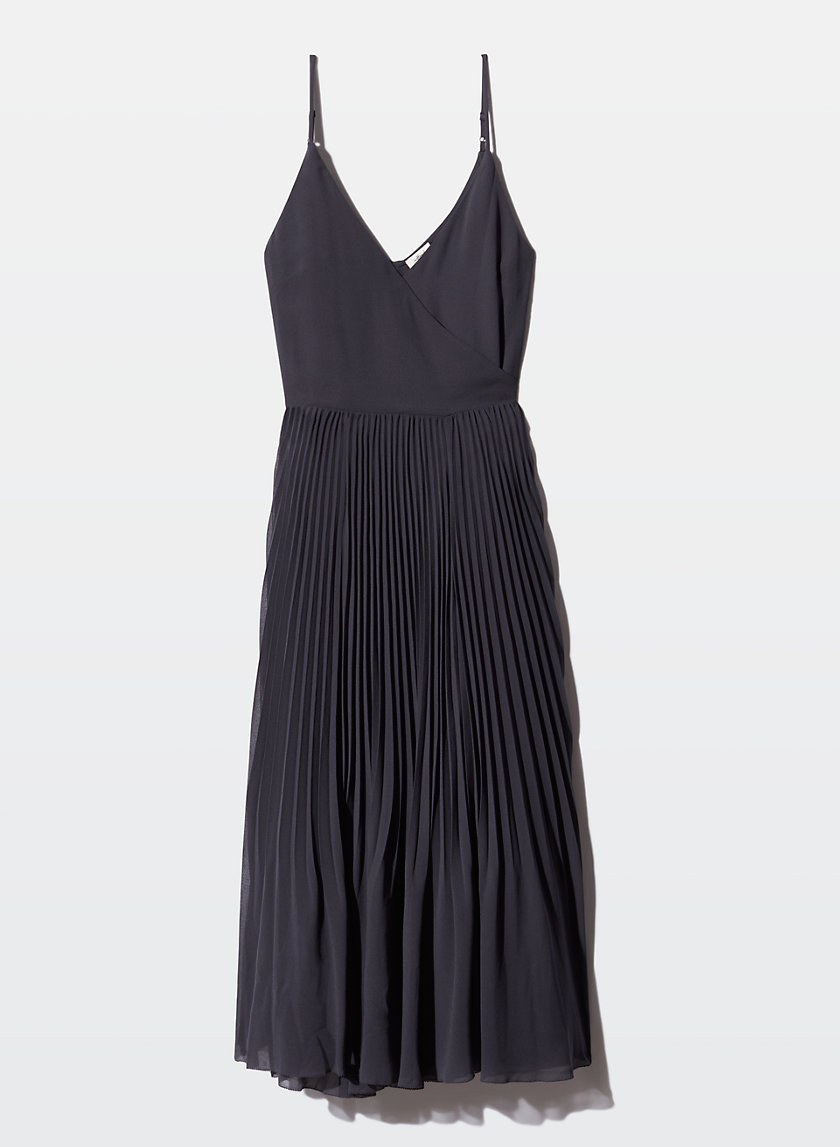 Favorite Closet Item: Wilfred Beaune Dress – $185
This isn't the type of dress that I would normally gravitate towards because of it's length, but lately, I've been more open to this style especially for the weddings I've been attending. I bought a dress for Jennie's wedding a few months ago, but I've had slight reservations about it – just that it wasn't "the one." I know, I'm kind of weird like that. I happened to be in Aritzia last weekend though for their sale and while perusing decided to just give this a shot. It fit like a glove. I felt pretty and like a little princess with the pleating! The color made my complexion feel and look warmer than it really was. I left the store that day without it because of the price, but I couldn't stop thinking about. I published me trying it on to my Instagram stories to which 5 of my friends had responded "I hope you got it!" I texted my mom a photo of me in the dress. When I returned home that evening, I realized I had made a mistake leaving it behind and promptly ordered it the next morning. Interestingly enough, the dress on the website is selling out! Looks like we snagged it just in time. 😉