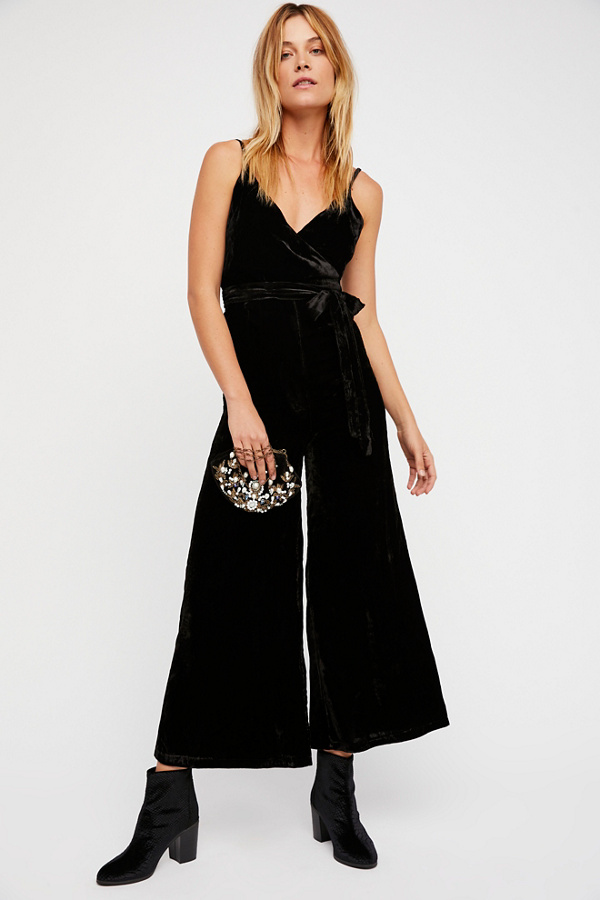 Free People Cabbage Rose Velvet Jumpsuit – $98
It's so hard to know when exactly to start writing this post to give everyone ample time to start their holiday party shopping. I'm also not the best example of this because I have purchased my dress just one week before and then also five months before the party – as in I didn't even know the date yet, but I knew I wanted that dress! This year, for the first time ever – I have two holiday parties, but both being very different. My own company's holiday party will actually be in January and will be somewhat non-traditional in that it's not how most tech companies celebrate the holidays and I won't be dressing up, but it will still be very special in its own way. The second holiday party will be with Google at the MOMA this coming Saturday! It's the first time I've also gone to one this early, but I'm very excited to accompany one of my favorite couples – Mandi and Eric for what is considered more traditional – an evening of eating, drinking, museum-ing, and dancing!
It's funny how every year I go into holiday party mode thinking that I want one kind of dress and actually end up purchasing one completely different. This year, I wanted to throw in a not so holiday party dress color – millennial pink! I know it would've been a challenge trying to find the perfect one (likely Topshop) but before I even got to searching, I ended up finding a long-sleeved, mock-neck, lace mini from Aritzia. Stick with what you know, right?
Well, in the brief shopping moments that I've had, I've been noticing a lot of beautiful pieces for this holiday season. I'm taking a break from work this evening to share with you some of my favorite looks!
Topshop Velvet Lace Mix Midi Dress – $90