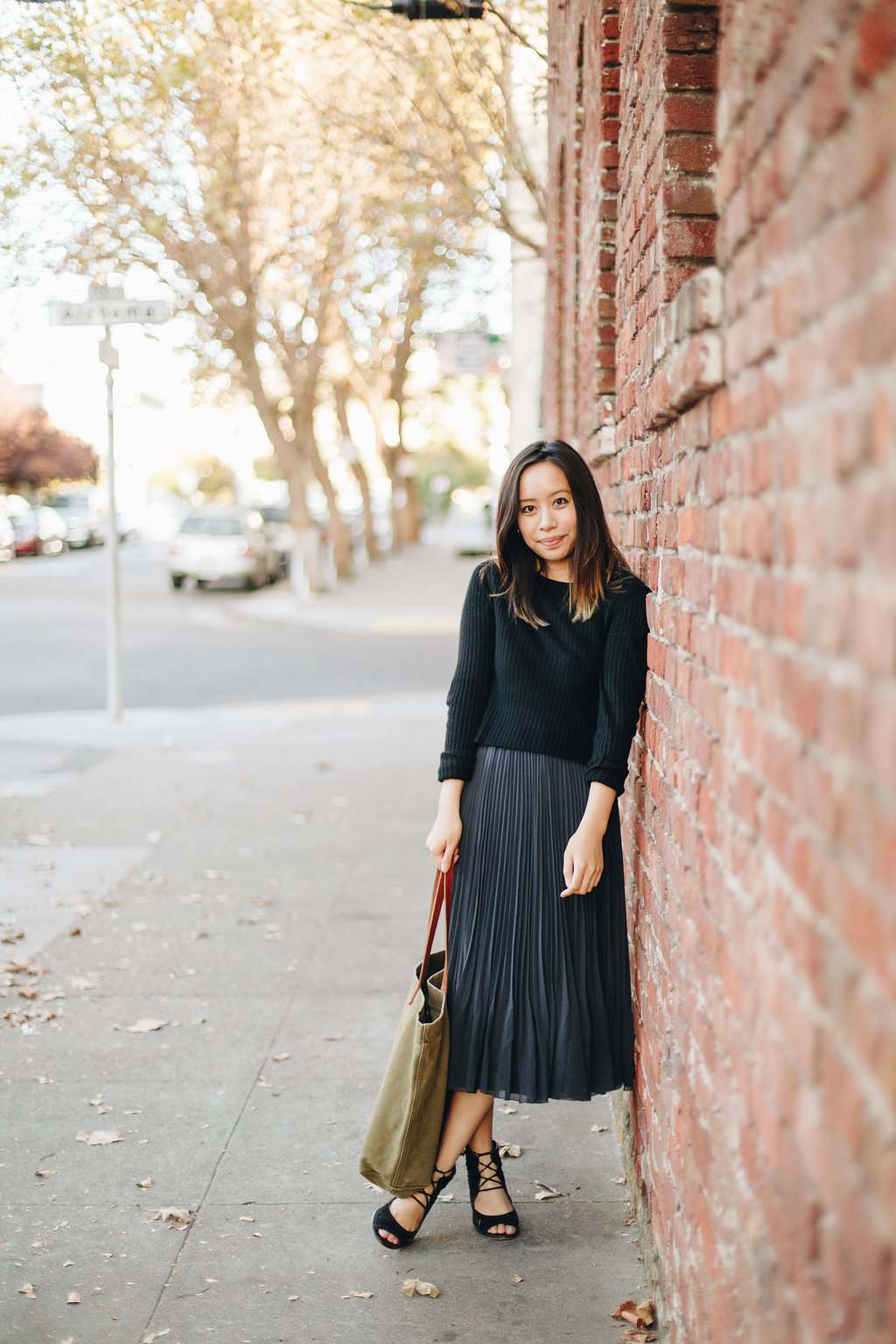 Sweater – Margaret O'Leary / Dress – Aritzia / Bag – Madewell / Shoes – Vince Camuto
If you've been following Yow Yow! since the very beginning, then you know that getting in front of the camera wasn't always easy for me. To this day, I still don't know what do with my hands or my arms. And when it comes to smiling? I'm the biggest critic for myself. If it has to do with clothes and fashion, I'm enjoying the photographs more to remember and look back on some of my favorite outfits. It has been nearly half a year since these photos were taken, but I'm so excited to share them with all of you.
I know that tech can leave a bad taste in some peoples' mouths especially in San Francisco, but one of my favorite things about it is its ability to bring a community together. I have connected with so many people on Instagram in the most unique and interesting ways and that's how I met [Kiyah]. She happened to be in SF the week that she reached out to me and we agreed to meet for a quick shoot as the sun was going down in the Mission District. I'd only ever shot with people I knew or from my own iPhone with my friends that I had to convince to shoot for me. I was curious how I might be in front of the camera with someone that I'd just met and surprised to find how effortless it was. It felt like we were old friends and this shoot ended up being the highlight of my week.
This is a topic that I want to continue in a later post, but I want to start it here. For years, there has been talk about how social media inaccurately portrays a person's life and how this makes other people feel. The answer? Not great. It makes people feel like their life doesn't amount to those that are living what looks like their BEST life on their feeds. It makes people feel like they are missing out. Many of us choose to not post in our most vulnerable states or when we are unhappy. As you may have read in a previous post, I don't post very much at all when I'm not as happy in my own life. This photoshoot with Kiyah will always stick with me because on this day that I met her, I had just been in tears at work that same morning. I woke up and got ready so that I could be in good shape by the time we shot only to have my makeup run almost completely off by the end of the day. When I look at these photos, I can see that I'm not my usual bubbly self even through some of those smiles, but I often times wonder if other people will/can notice. Internally, I knew that I was off my game and while this is one example in my life, this isn't the only example. Thanks to Kiyah's amazing work and talent, she really helped us pull this off. I enjoyed my time with Kiyah so much that we agreed to meet again the next time she's here in SF. To view more of her work, click [here] to visit her website.