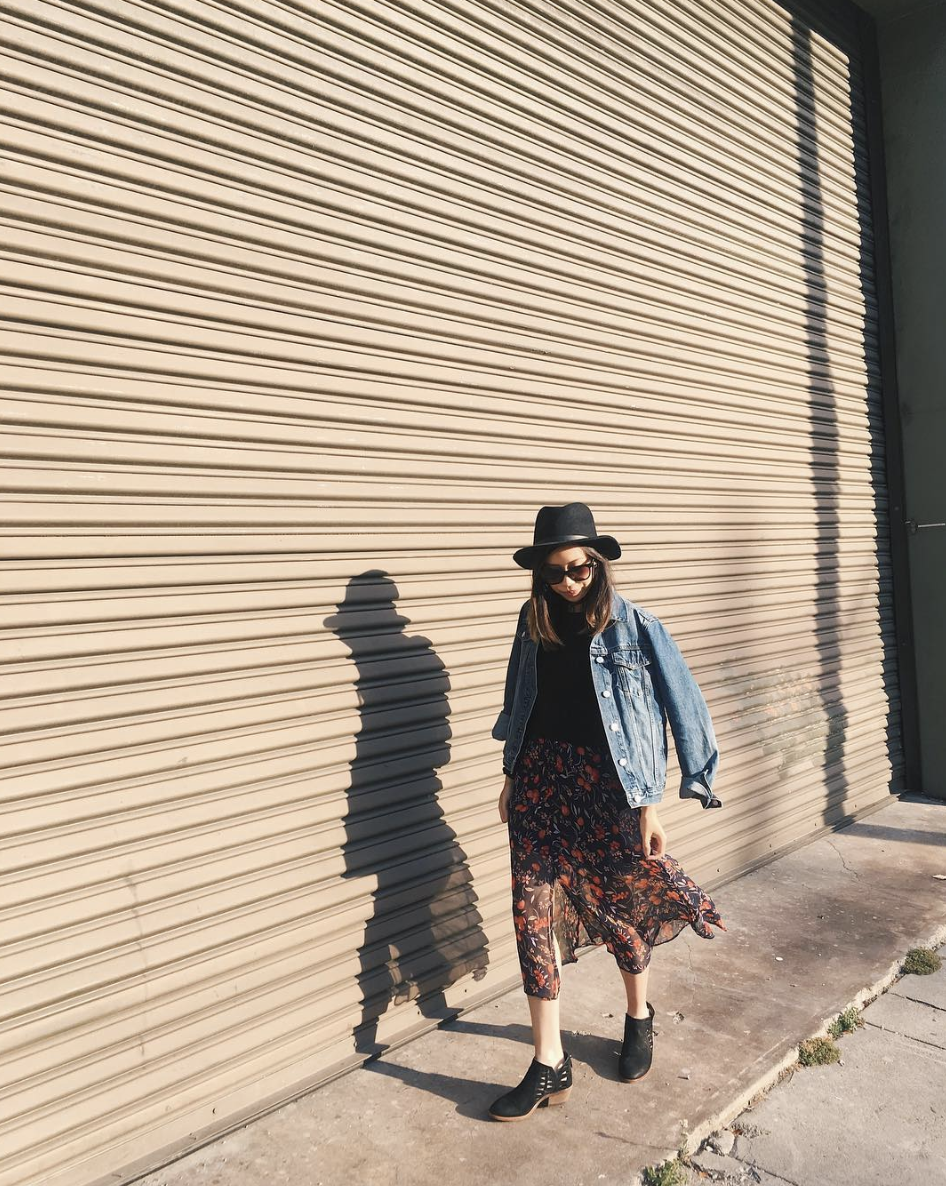 Dress – Urban Outfitters / Sweater – Margaret O'Leary / Denim Jacket – Gap / Hat – Nordstrom / Booties – Vince Camuto / Sunglasses – Marc Jacobs
For once, there's a lot going on in this outfit! There's so much to love about it though. As I get older and my friends start to marry off, it means that I have many more weddings to attend than I ever did before. I'd be lying to you if I said that I hadn't ever considered services like Rent the Runway before, but the truth is, I love owning my pieces. This year, I was convinced that I'd be able to re-wear my wedding guest dresses again and that's exactly what I did. I wouldn't feel good about only wearing something once and it allows me to stretch my creativity when I can pair something like a wedding guest dress with things I already have in my closet. This dress above was only the second time I had worn it with the first being at Mandi and Eric's wedding back in September 2016. It looked a little bit different back then and it was styled in a more formal way.
Wearing it for a more casual day-to-day outfit brought to my attention that this dress is a little bit more sheer than I expected it to be! Thank goodness for the slip underneath, but even that made it seem like we were at risk sometimes. To make it more casual, I threw one of my favorite pullover sweaters onto it and added the denim jacket for an extra layer. The hat and the shoes matched the sweater and kind of felt like I was pulling the outfit together with these pieces. You also can't see it, but I'm wearing a black choker, which looking back now, was probably not as necessary.
I couldn't tell you what I was thinking of when I woke up that morning and put on this busy outfit. It did, however, remind me of one of my favorite 90's icon – Blossom!