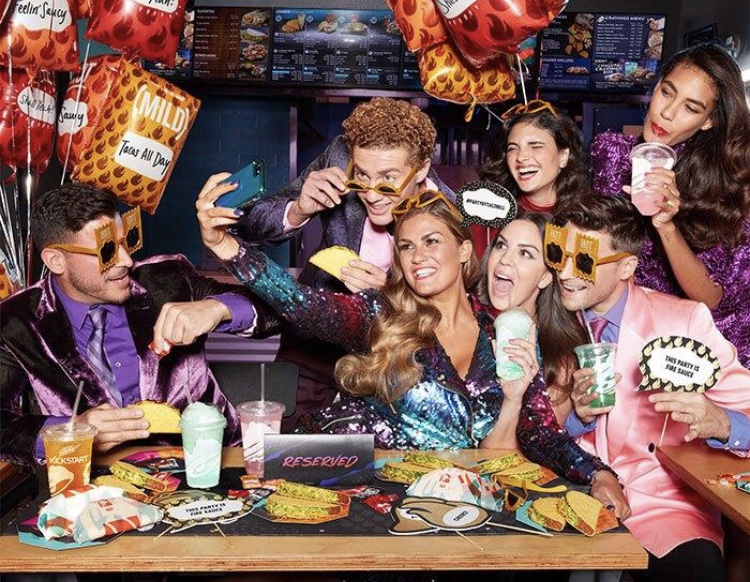 Even if I can't participate, I don't believe in withholding information that could be useful to my readers. First off, is this the cast of Vanderpump Rules in this photo? I only recognize the 4 in the front row – who are the others?
At select Taco Bell locations, the chain is now hosting your own private parties! It's almost like they read my mind because my next birthday party is going to be at a fast food chain restaurant. From now until December 22nd, you can host a party and it can be for whatever occasion you want. Here are the details:
Capacity: VIP seating for 2-10 people.
Price: Starts at $25 and includes reserved seating in a participating restaurant and a Taco Bell® Party Décor Kit for one hour on select weekends.
Taco Bell Party Décor Kit: 1 table runner, 10 paper plates, 1 photo prop kit. The decor kits are available in two designs: Feeling Luxe and Feeling Electric.
Food: Not included, but a team member will help you order food once you're there. They suggest a Taco Party Pack, naturally.
Participating locations: Cleveland, OH, New York, NY, Bakersfield, CA, Brea, CA, Dale City, VA, Newport Beach, CA, Dallas, TX, Rock Hill, SC, Flat Rock, MI and Ocoee, FL.
Is your location not listed? Don't worry, you can bring the party to you by ordering the Taco Bell Party Decor Kits at TacoBellParty.Com.
You can customize your party and add hot sauce packet balloons to your package for $16. There are Mild, Hot, and Fire sauce balloons available. You can also add on additional tableware, party sunglasses, more photo props, and Taco Bell gift cards. Make a reservation today!
WHAT A DEAL, honestly!
[Source]