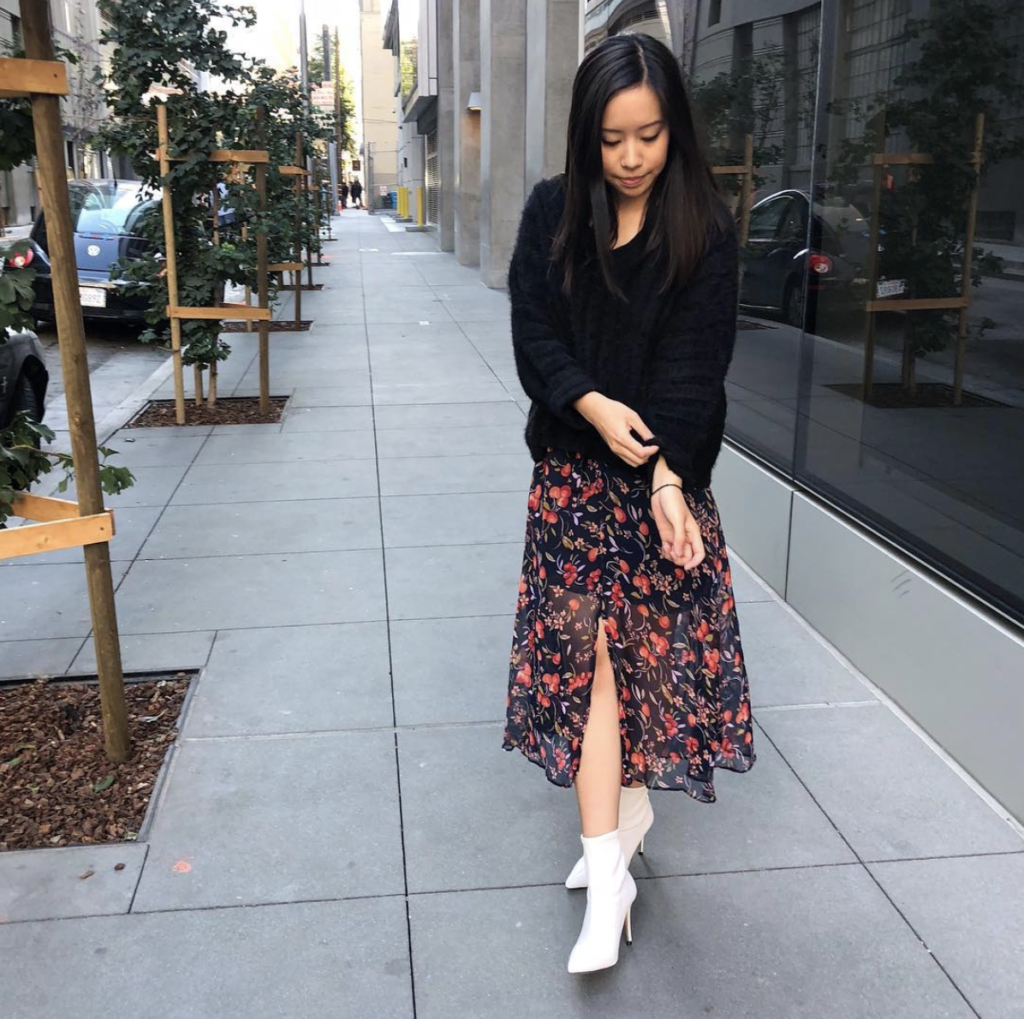 Sweater – Oak + Fort / Dress – Urban Outfitters / Boots – Something Navy
Believe me when I tell you that I never thought I could pull off these white boots. Even as I tried them on, I couldn't help, but think that I was making a reckless shopping decision. I was torn. They looked good and I knew I had to have them, but boy, did I battle with these breaking them in. As you can imagine, they don't look comfortable and don't become comfortable until maybe seven wears. That being said, white boots were all that I longed for this past fall season despite a numbing effect. It's a gamble in a place like San Francisco, but everywhere I went, they were noticed and that validation alone is all I needed to make this purchase worth it.
I've been wanting to share this post for awhile because I was excited to tell you all about them. I also wanted to use this opportunity to talk about something else that has been on my mind. When you start a new job, you have this chance to start over again. If you wish, you can reinvent your working wardrobe too. At the time of this purchase, I had been just a couple months into my new job. In tech, it doesn't matter what you wear. Hell, in my first job I would wear oversized sweaters and leggings to work. Back then, that look was considered "in."
In 2019, it's not unacceptable, but it's not my choice for a work outfit. My new job was an opportunity to see if I could get others to perceive me the way I wanted to be perceived. Flats and sneakers weren't allowed to come to work with me. From 2013 – 2017, I owned three different pairs of Tieks that I would rotate on the regular. Kevin got me into sneakers at a young age and I live in my Nike Flyknits and adidas UltraBOOSTs. I just didn't see a place for them at work. In my heels, I felt that confidence. I felt taller and because of that I let myself believe that I was taken more seriously. To be clear, no one has ever said to me that my shortness in height made them not take me seriously or respect me.
This was something that I brought upon myself. From time to time, I might wear my sneakers to work. They don't bode well with the carpet so I'll slide across them from time to time and nearly slip. The heels hold some power. I feel different when I'm wearing them. They make me feel more put together whether I'm in a dress or if I'm in pants and a top, the heels are the instant boost. I've been in my role for nearly a year now and for some time, I started to believe this was all in my head. Then a couple of months ago at a happy hour a co-worker said to me "So, what is it like down there?"
"Down where?"
"You know, being your height."
It was the most innocent ask, but at the same time it took me back to middle school when I knew the people asking me that question asked me because they were jerks. And then it came full circle for me. The heels are a work thing for me now, but it reminded me of a place I didn't want to be in again. I didn't want to feel looked down upon for my height and yes, believe it or not, even in your adult life someone can still make you feel small. I have spent many years embracing my petite stature. This was a weird little blip, but it reaffirmed my decision. The heels make me feel some sort of way. Maybe it sounds superficial, but the reality is I'm wearing them for myself and for others and it's okay. In some sense, I feel like they protect me.