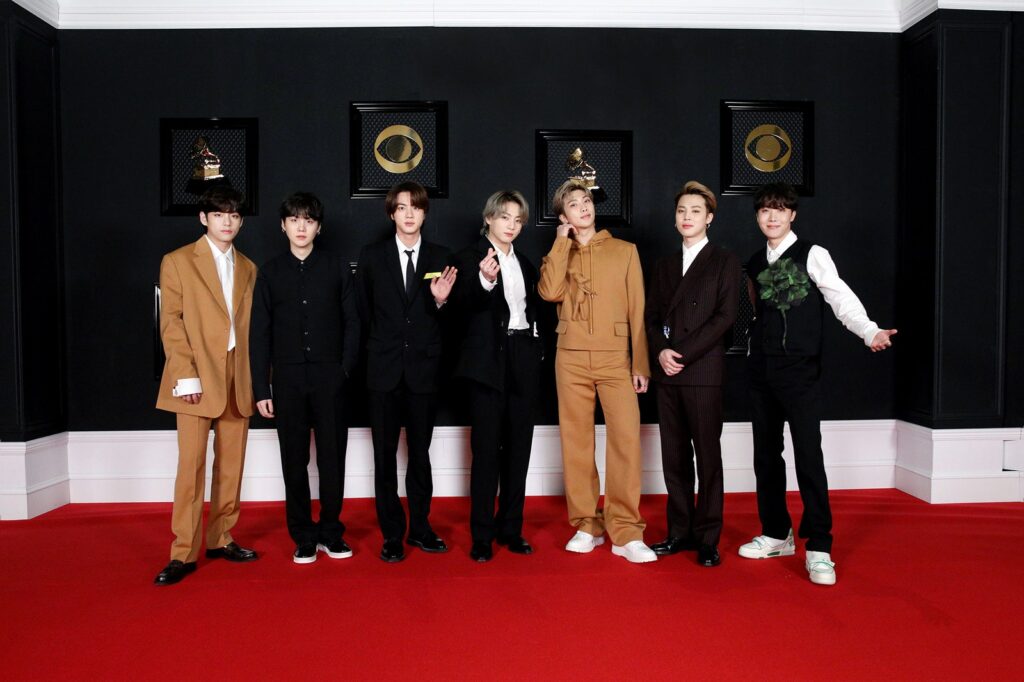 If you've been with Yow Yow! for some time, then you know that we always cover awards shows. Every year, we discuss the winners, the red carpet, the snubs, and the things we learn after it all goes down. It's not lost on any of us that the public are calling on award shows to be more diverse and inclusive. The pattern is that they give enough for us to be grateful, but also to shut us up. As a newly BTS stan, I watched myself become more invested in the group's wins and aspirations. They are the group that you want to root for. Days and weeks leading up to the award show, their promos were everywhere. Celebrities were even getting in on this and it felt like there was a campaign rallying for a "Dynamite" win.
In 2019, BTS presented an award for the first time and said on stage, "we'll be back." Sure enough, they did return in 2020 to perform "Old Town Road" alongside Lil Nas X." While it was a performance on the Grammy stage, the guys wanted a chance someday to perform their own song. It was 2021 in which they not only were receiving a nomination, but also invited to perform. It was supposed to be their year actually. Plenty of media outlets predicted a win and that they'd have one of the best performances of the night and it was! Now, no one here is saying that "Rain On Me" wasn't a summer bop. It was a great song, but if we're looking at the numbers, there is no comparison. That begs all of us to wonder, "how are winners actually being determined?"
For an award show who boasts about BTS being a part of their program, they sure have a funny way of showing their love to the group. BTS participated in numerous interviews with the organization leading up to the event. Ahead of the award show itself, they did a special performance for MusiCares – a virtual concert featuring a number of artists. Tickets were $25 and while BTS was headlining, they only played one song at the end of the event. Best Pop Duo/Group – the category that they were nominated for was not going to be a part of the main show. Of course, every year there are too many awards that they have to present some before the main event. You would think a category like this would be primetime, but it's not. The disappointing part of this is that if they had won, they wouldn't have had the chance to give their speech in front of everyone else the way others have had that opportunity previously.
As someone who worked in events, I understand production logistics. I'll let that part slide. The thing that I cannot forgive though is the award show teasing in every commercial break that BTS "was coming up next." As ARMY, we know better. American awards recognize the pull and influence that BTS has on their fans. Keeping them hanging onto the very last minute of the show with BTS performance brings up their viewership. Well the joke is on them because despite doing that, the Grammys last night pulled in its lowest ratings at 8.8 million. Jungkook's VLive a couple weeks ago pulled in 22 million viewers alone.
We're not exactly saying the Grammys are racist or xenophobic, but we call it like we see it! ARMY root for BTS to receive the Grammy award because they know how much it means to the group. It's the thing that they've been working towards that they haven't achieved yet. Given all they have done, they don't need it and in fact, it's the Grammys that needs BTS more than they need them.