It feels a little bit strange to be celebrating the 4th this year doesn't it? Our country is kind of in shambles and Americans love their freedom so much that they're putting those around them at risk. Let's not pretend that isn't the truth here. Last year, I had a very quiet 4th of July. I was craving bbq and since I didn't have a grill myself, Kevin and I got takeout from [4505] so that I could get a rack of ribs. It was a San Francisco summer day with fog and light rain. The last 4th of July experience I remember truly having is one with a BBQ though. We don't have a party to attend to this year (and honestly, no one should really be doing this,) but if we were hosting, here are some things we'd whip up.
Cocktail
Every good BBQ needs to kick things off with a refreshing and cool drink. Cherry is one of my favorite flavors both in cocktails (my favorite is an Amaretto Sour) and in food. With a prep time of just 15 minutes, how could this be any easier? [Ginger Beer Cherry Vodka Soda]
Appetizer
Technically, I was looking for a true appetizer for this next course, but we're going to end up highlighting two kinds of salads. I don't consider this one to be more traditional because it's kind of a "little bite." In the summertime, I'm always finding that my home is stocked with as much fruit as possible. During these months, you kind of have to take advantage of the fruits in season and switch up your Caprese. [Peach Caprese Salad]
Salad
I am obsessed with any kind of variation of a corn salad in the summer. Not only is it light and refreshing, but it's the perfect dish to accompany any meal. Corn happens to be my favorite type of vegetable so I'll eat it on everything despite it being loaded with sugar. [Mexican Corn Salad]
Entree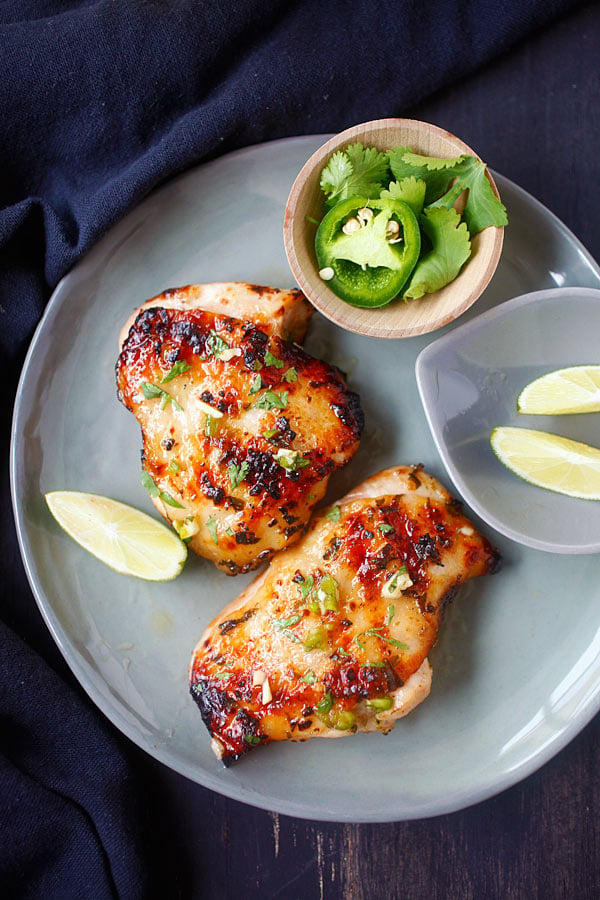 I went back and forth on what recipe I wanted to highlight for an entree. It was either going to be something a bit heartier or a form of kebabs. Kebabs were the epitome of a BBQ for me growing up and something we always had around 4th of July, but they are on the lighter side. I also liked them because it was easier to eat without leaving a mess on you. Instead we settled for a [Chipotle Lime Chicken], which I think compliments the rest of the recipes in this post.
Dessert
I know people like to get very festive with dessert around this holiday, but c'mon. Don't you think a flag cake is a little predictable? If you're going to do a flag cake, at least make it an ice box. However, if you choose to go with something else, we suggest the [Biscoff Cheesecake] It's my favorite kind of cookie and cheesecake in itself is an All-American dessert, right?
However, you choose to spend your 4th, I hope it is restful and that you're keeping yourself and others safe.