Normally, I start this post as soon as the awards show ends, but I knew that this year was going to take a little bit longer. In fact, I cleared the entire rest of my night to write this post because I wanted to take extra care of it. I also didn't want to fuck this up. Before we get into what everyone wore, I want to say how difficult it is to write this post. Everyone. EVERYONE was extremely beautiful and elegant and this year, it wasn't about the gowns at all because the color black symbolized something more. It was a movement of women who stood together supporting each other against sexual harassment, sexual assault, gender inequality, unequal pay for women, and so much more. Why is this list even as long as it is? It's frustrating, isn't it? We're also not focusing on significant others and dates to the awards show because this year many actresses chose to bring along with them activists and strong women in this world who are leading these efforts everywhere.
This time around, we're going to do things a little bit differently. What will stay the same – the photos and the designer. But I'm keeping my critiques to myself because I just don't think that on a night like this and an award show as amazing as this one was this evening, that we need any more criticism towards women and how they are dressed. And maybe we'll choose to continue to do it this way from now on.
What I'm really excited to focus on in this post is how these stylists and actresses rose up to the challenge of wearing these black gowns and making it their own. They added pops of color, accessorized, and emphasized their hair and makeup instead of letting the gowns speak entirely for them. Except in a way, they did – powerfully. It will be hard to select my favorites, which I'll share on my Instagram Stories later on this evening.
And while this evening was moving and inspiring, it's a reminder to me that there's still a lot of work to do. That there are men in that audience that are not supporters and instead abusers that have not been called out yet. That while we shifted the focus on the red carpet to not ask about who they were wearing, reporters were not asking enough men about what they were going to do to support the #TimesUp movement or how they felt about it. Very few wore anything, but black on the red carpet, but is this the same "fall-in-line" culture just repeating itself again? Also, wearing a uniform black dress doesn't solve the problem(s). In high school, these sort of things were just called spirit days. (sorry was that harsh)
There's a lot to unpack probably in the coming months, but we don't gotta do that tonight…
Tracee Ellis Ross in Marc Jacobs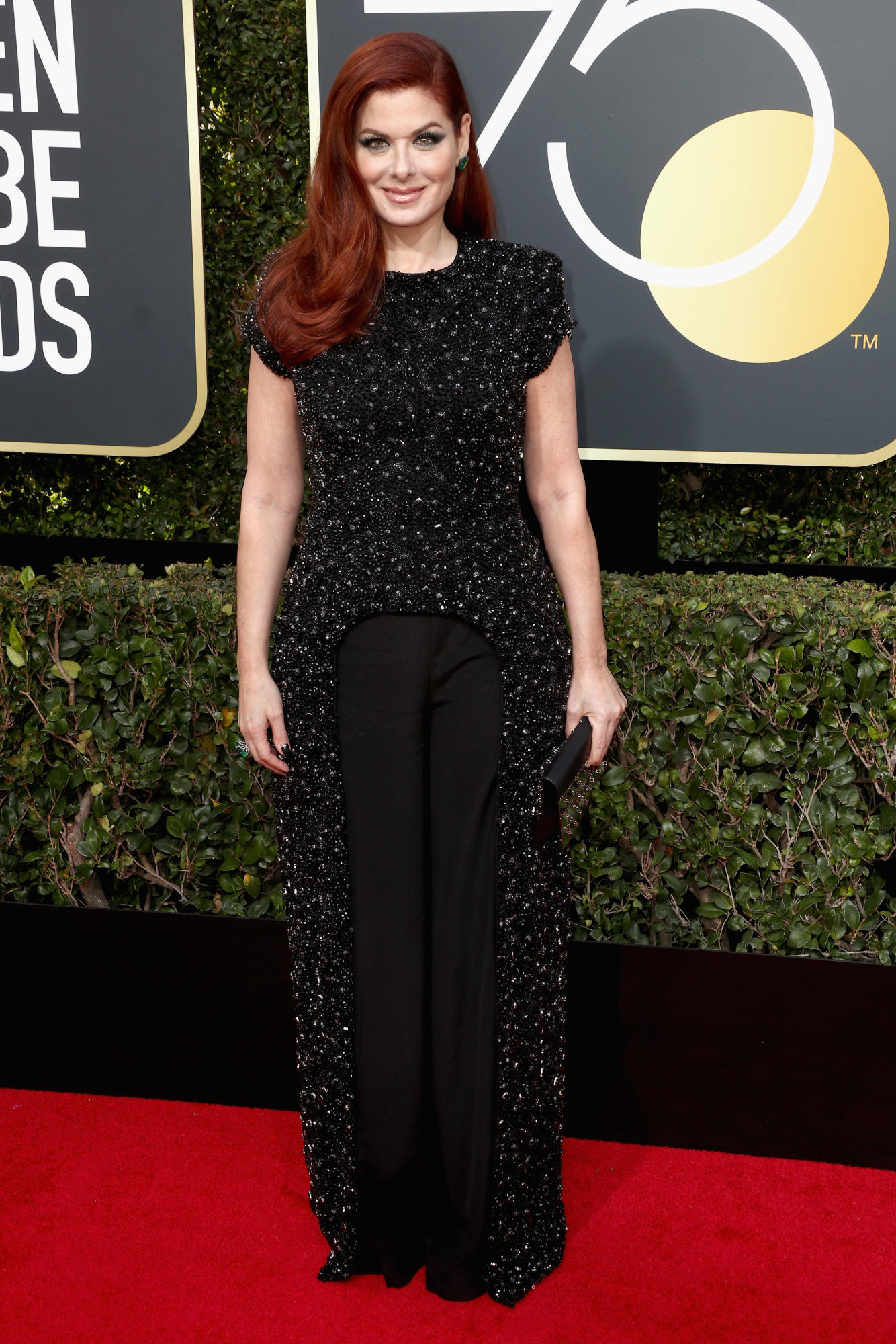 Debra Messing wearing Christian Siriano